I was  in my drawing room checking tweets from my android phone when I overheard my little sister reading aloud her Civics text.  I did not follow it seriously, but then I heard some words like "Ansari…. Flat…. Vegetarian….. name change" etc. I grabbed the text and read the full paragraph.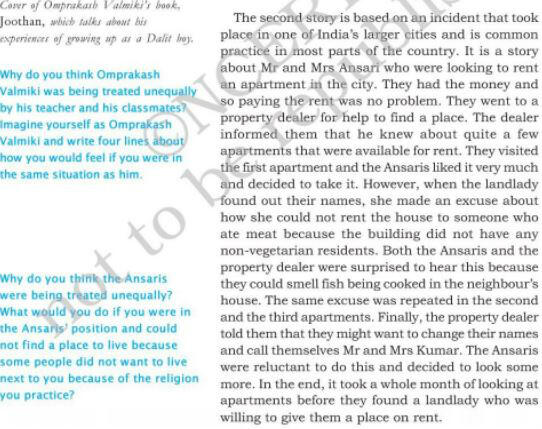 It was Civics NCERT text for Seventh Standard students, the name of the chapter was "EQUALITY". The story in short is this "Mr and Mrs Ansari looking a flat for rent, because of their Muslim name, people refuse to give them, broker advices to change his name to Kumar. They did not, and finally somehow they got one flat from a lady". I was shocked to read this story in a text book meant for a twelve year old kid. Typical reaction of secularists will be what is wrong in teaching kids about discrimination faced by religious groups in India? This blog is dedicated to such people who refuse to grasp the obvious.
Impact of the story on kids belonging to Majority community
They will think that the community they belong to discriminates against Muslims.

They will think that Muslims are the only one who are discriminated against for no reason.

There are other stories in the text book, about caste discrimination, which open up the healed wounds.
Impact of the story on kids belonging to minority Muslim community
They will think that they are always being discriminated against by the majority community.

They will develop a victimhood mentality in the early stage of their life.

Development of Victimhood mentality is the precursor to extremism.
Half truths are dangerous
There is no question about the truthfulness of the story. This story is abridged from a
news report
 which said Muslims are being discriminated against. What the text-book and the news reporters failed to see is that in many Muslim ghettos in India, it is nearly impossible for a non-Muslim to get a flat or a house. Without mentioning the other side of the story, the NCERT authorities are spreading half truth which has potential to worsen the already existing divide between communities in India. Half truths are sometimes worse than lies. Examples of other "flat" stories
This situation of one community discriminating against other is alarming, and the respective governments should look at the ways to address this problem. But they should not outsource these facts to students, that too in a twisted way, to worsen the already existing divide between religious communities in India.