Today(11th November) is Maulana Abdul Kalam Azad's Birth Anniversary. He was a  scholar and a senior political leader of the Indian independence movement. Following India's independence, he became the first Minister of Education in the Indian government. In 1992 he was posthumously awarded India's highest civilian award, the Bharat Ratna. This blog post is about his views and narratives about Sardar Patel, Gandhi and Nehru which he has expressed in his autobiography named "India Wins Freedom".
What inspired me to go through his autobiography, frankly I must admit, is not because I love or adore him, but because of some recent controversies in Indian politics. Not many days ago, Narendra Modi and Man Mohan Singh shared dais on the occasion of commemorating Sardar Patel's Birth Anniversary. Narendra Modi spoke about how visionary Sardar Patel was and also said ""Had Sardar Vallabbhai Patel been the country's first prime minister, India's fortunes would have been completely different from what it is now." Manmohan Singh read a prepared speech, but it was interpreted as a retort to Modi's speech, he said "Sardar Patel was secular. People of all religions were his friends. Sardar Patel was a deputy prime minister in Nehru's cabinet. They might have differences but they used to respect each other a lot. " "Mahatma Gandhi, Sardar Patel and Maulana Abul Kalam Azad taught us to respect all people even if their ideologies were different. Today there is dearth of these thoughts and I believe everyone present on this dais will do a self-assessment about it," the prime minister said. "Sardar Patel always dreamed of an united India with a secular outlook. Patel has inspired us with his works,"  (source: firstpost) Today, may be due to their fear of Narendra Modi and BJP hijacking another congress leader, Maulana Abdul Kalam Azad, UPA has launched a website on him.
While on twitter, some Narendra Modi fans were circulating some screenshot from Azad's autobiography saying that he too was Anti Nehru and supportive of Sardar Patel.  Following are those screenshots :
1. MAK Azad, like Modi, wished Had he not made the mistake of choosing Nehru over Patel as his successor  , history would have been different.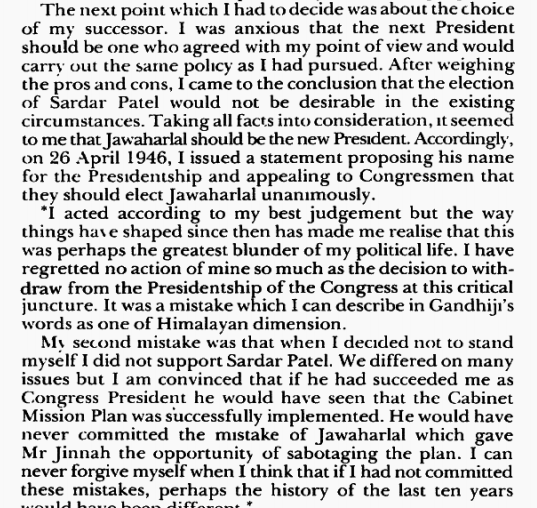 2. MAK Azad also thought that it was Lady Mountbatten who influenzed Nehru to change his stance on Partition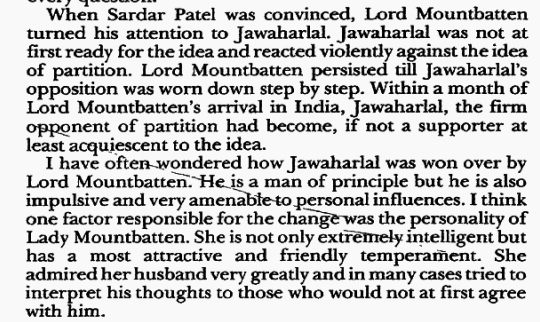 The above are two instances in the book by Azad, where he seems to be quite critical about Nehru. But that does not however, suggest that, he was an admirer of Sardar Patel. As far as I read the book, it is more about criticism of Sardar Patel than anything else. I will  post more screen grabs from the books to prove it.
1. Sardar Patel had communal demands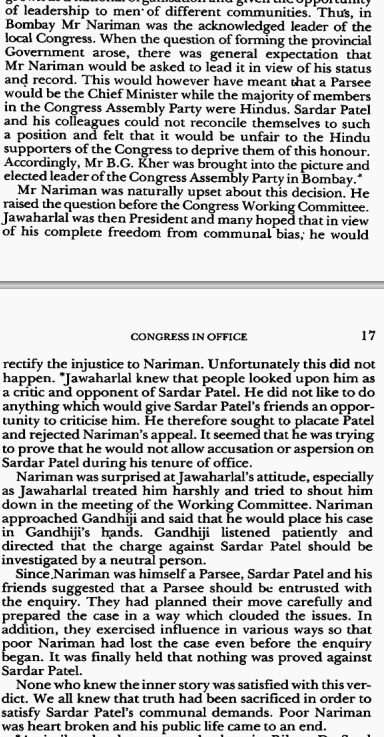 2.Sardar Patel was founder of Indian Partition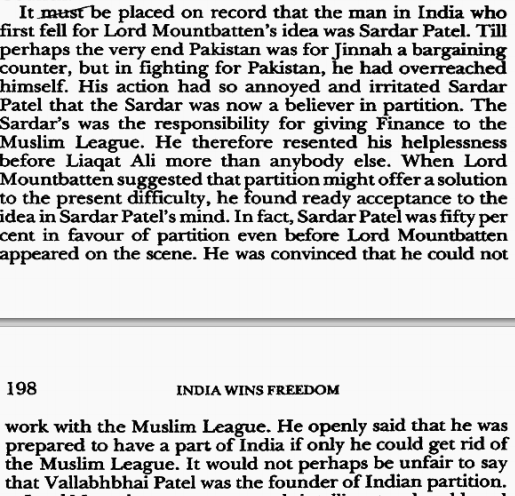 3. Patel believed that Hindus and Muslims can not be united into one nation. Hence he thought partition is the best solution to communal problems.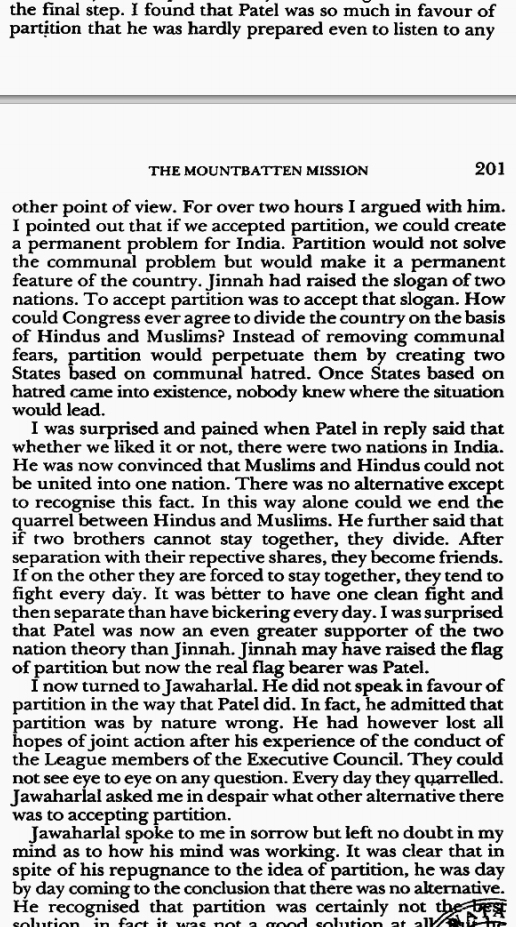 4. Sardar Patel influenced Gandhi to agree on Partition.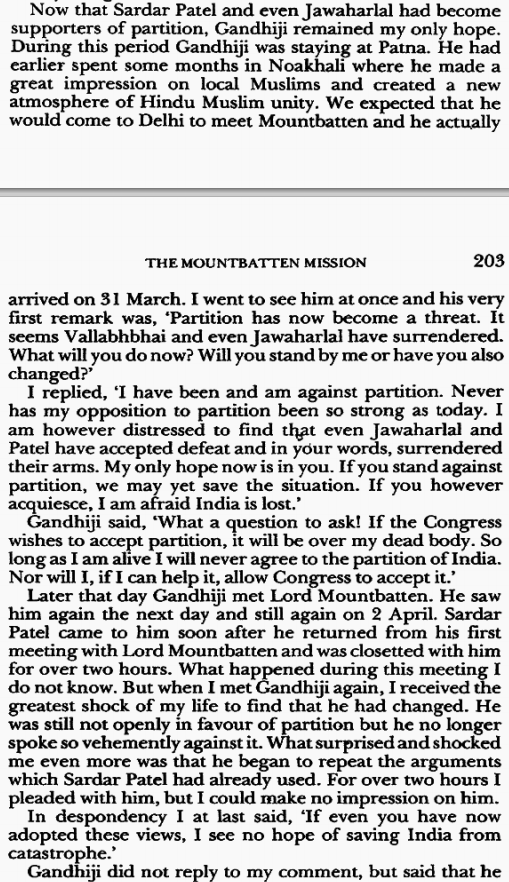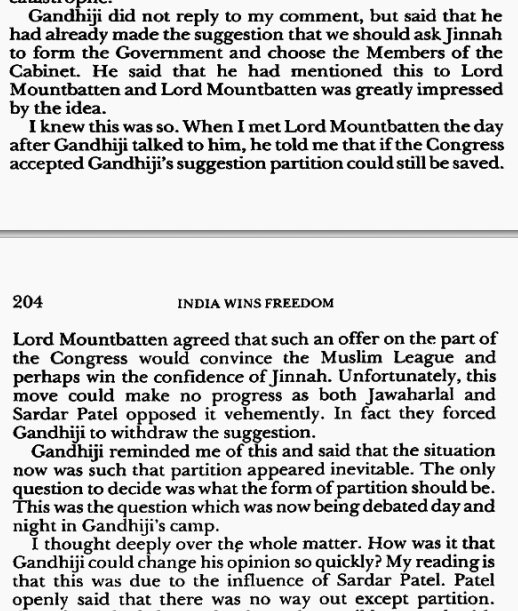 5. Sardar Patel believed that partition is the only true solution to then existing circumstances of India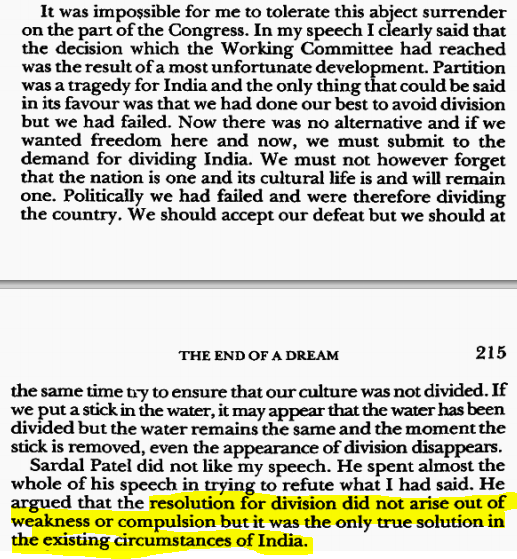 6. Sardar Patel,according to MAK Azad, would not have been sorry if Muslims who followed Muslim League suffered.

7. Sardar Patel did not pay any attention to complaints by Muslims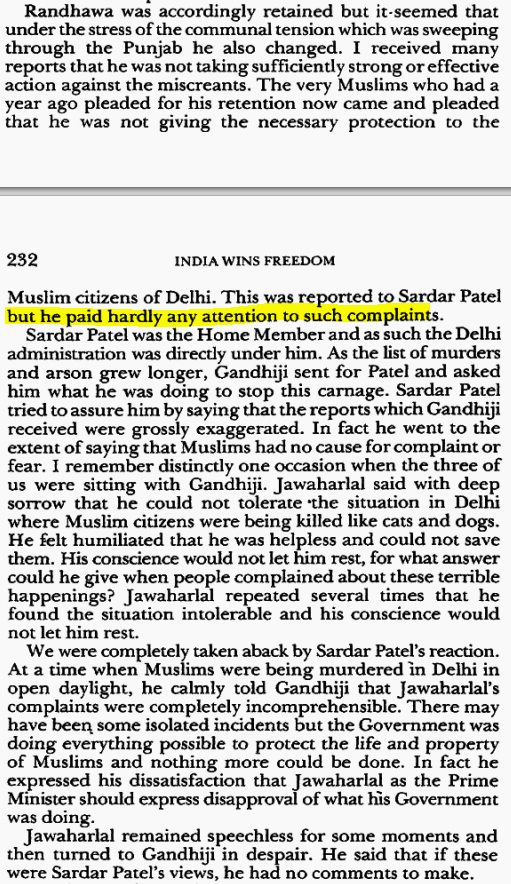 8. Sardar Patel prejudices about muslims ?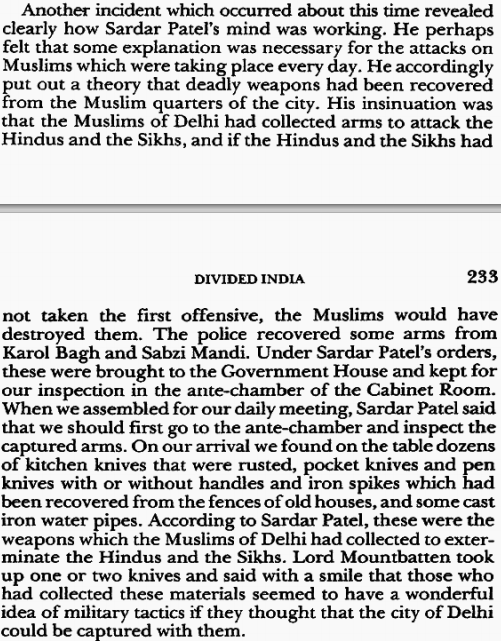 9. Heated conversation between Sardar and Gandhi on the issue of atrocities against muslims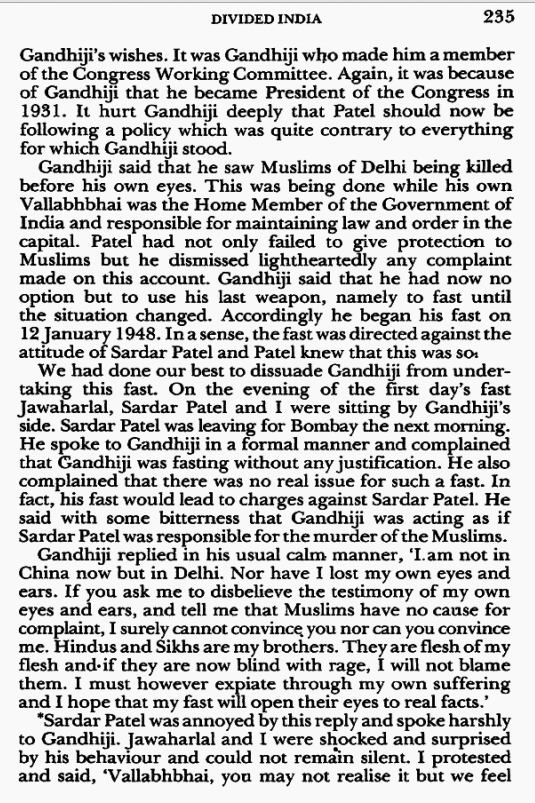 10.  Sardar Patel said to MAK Azad that Gandhiji seemed to be determined to blacken the names of Hindus before the whole world.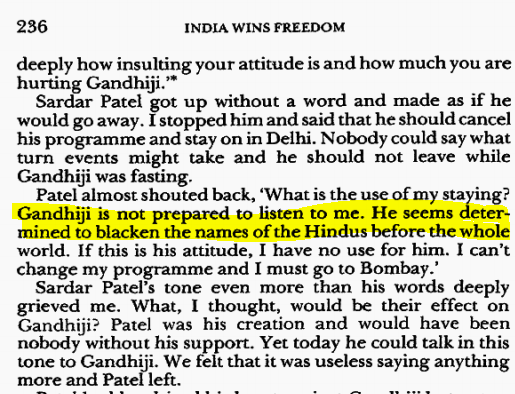 11. Many congress leaders accused Sardar Patel for not providing enough security to Gandhi which resulted in his death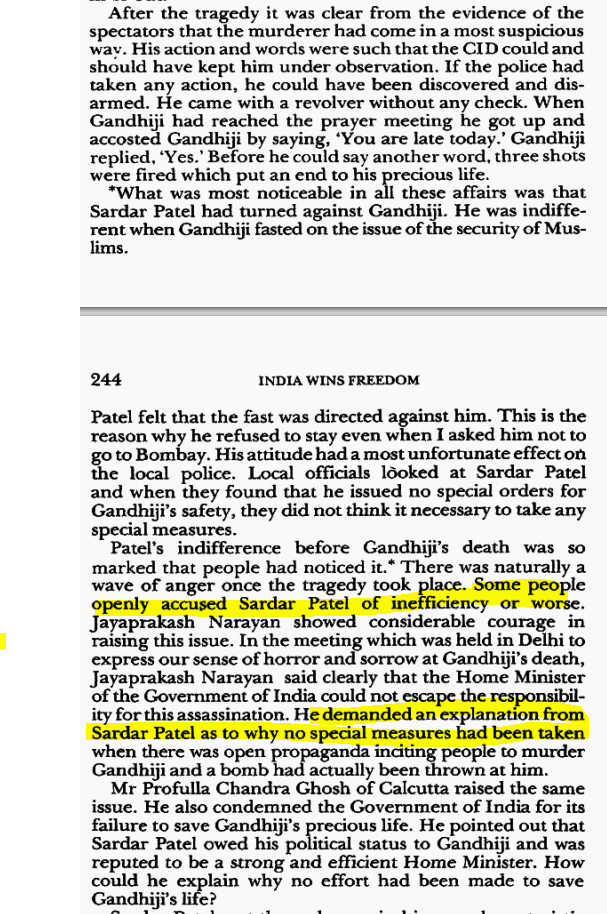 12. Sardar Patel's reaction to his critics on Gandhi assassination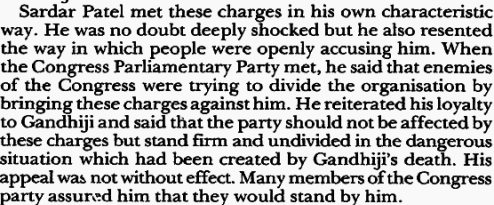 13.  Sardar felt deeply shocked and humiliated after Gandhi Assasination : It affected his health also.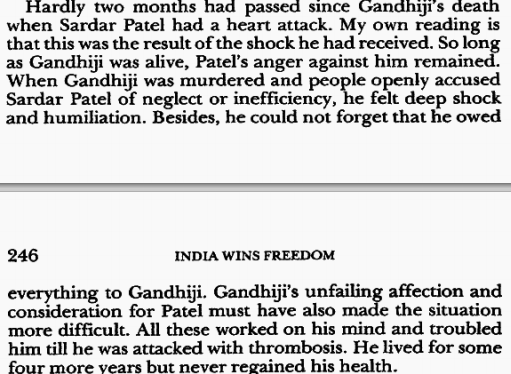 I started reading the book hoping for some anti Nehru stuff, but ended up in getting some anti Sardar stuff from Maulana Azad's autobiography. Although I adore Sardar Patel, it was very interesting to read how other leaders in congress saw him. I fear it is Narendra Modi who occupies the political space of Sardar Patel today.
Just go through the allegations against Sardar Patel, be it his autocratic nature, be it the "communal" mindset, be it his indifference to muslims, we can see the same set of allegations being hurled against the Gujarat chief minister and the Prime ministerial candidate of BJP. It is not coincidence that Modi saw a hero in Sardar, i guess it is because he saw his own life in him.
For UPA, my humble advice is not to secularize Sardar Patel much, he did not practice the secularism of Nehru and Gandhi and Azad, but much the no nonsense secularism of Modi.