Imagine the hue and cry if Narendra Modi talks the H word- the whole nation will debate his majoritarian communalism. If BJP promotes Sanskrit or Yoga, it is also communalism.  But accidentally I saw a website maintained by Andhra Pradesh Government which is named christianminorities.ap.nic.in.  We have minority ministry for centre and state, but never knew in Andhra Pradesh there is a special status for Christians. Contents of the site would prove the status enjoyed by Christian minority in Andhra.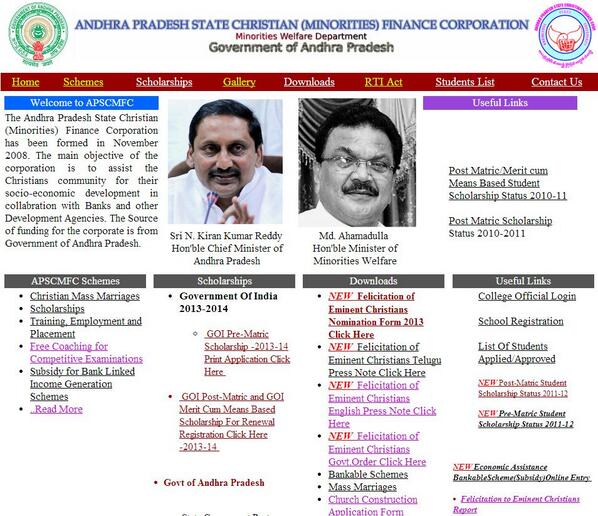 The following welcome note can be read in the website itself.
The Andhra Pradesh State Christian (Minorities) Finance Corporation has been formed in November 2008. The main objective of the corporation is to assist the Christians community for their socio-economic development in collaboration with Banks and other Development Agencies. The Source of funding for the corporate is from Government of Andhra Pradesh.
Three conclusions can be reached easily from above note
Congress Government under YSR started it in 2008. In April 2009 assembly elections were held. This corporation was set up to woo Christian vote bank.
Main objective of the corporation is to assist the Christian community.  Not even minority community, Christian community need a special assistance?
The funding of this corporate is by Government of Andhra Pradesh. Public money for blatantly communal corporation?
As we move on we can read about the schemes by this corporation, they are
Christian Mass Marriages
Pre Matric Scholarships (Government of AP)
Post Matric Scholarships (Government of AP)
Tuition Fee Reimbursement (Government of AP)
Pre Matric Scholarships (Government of India)
Post Matric Scholarships (Government of India)
Merit-Cum-Means Scholarships (Government of India)
Training, Employment and Placement
Free Coaching for Competitive Examinations
Subsidy for Bank Linked Income Generation Schemes
Christian pilgrimage to Jerusalem ( Stopped due to High Court Stay Order)
Financial Assistance for Construction/ Renovation/ Repairs to Churches (Stopped due to High Court Stay Order)
Financial Assistance to Christian Hospitals, School Buildings, Orphanages, Old Age Homes, Community Halls-cum-Youth and Resource Centers; and for Youth Awareness Programmes and promotion of Christian Culture.
Those in un- bolded letters are quite common to see in most of the states. But I am yet to see Christian only scholarships in any other states. But the "schemes" above in bolded letters needs quite elaboration.
Till 2009, Andhra Goyt used to give subsidy to Christian pilgrimage to Jerusalem. In July 2009, The HC stayed the state funding of subsidy. It seems that the court has vacated the stay, but the website says it has been stopped.
It is worth noting that the Andhra Government has a financial assistance scheme, which is perhaps still continuing, to promote Christian culture. Why should any Government which vow on secularism promote Christian culture with state funds? Does not it tantamount to saying that Christianity is state religion of Andhra? What if BJP says it would promote Hindu culture?
There is another scheme to felicitate eminent Christians in Andhra? A Secular Government felicitating eminent personalities of a particular religion only? Following is the notification of that scheme
A P State Christian (Minorities) Finance Corporation, Minorities Welfare Department, Government of AP solicits nominations from Heads of Churches, Christian Institutions, Community Leaders etc., for felicitating eminent Christians who have excelled in different fields of life and rendered exemplary services for the last 10 years in secular areas like 1) Social Work (2) Education (3) Literature (4) Medicine (5) Fine Arts/Theatre at the time of Christmas High Tea Programme hosted by the Government of AP through General Administration Department during December 2013. Those selected will be felicitated with a cash award of Rs.10,000/- along with a plaque in recognition of their services.
The majority-minority concept in India itself is a flawed one. Minority protection presupposes a strong, proselyting and united majority. But in India Hindus are not a united majority, instead they are divided into groups and subgroups. Here the majority community is a collection of thousands of minority groups who are less in number than Muslims and Christians.  Hinduism is not a proselyting religion which propagate that other religions are false.
The above schemes are perfect examples of how blatantly communal and discriminatory schemes which are unconstitutional are introduced in the name of secularism. Secularism nowadays, is even a defence to rape for some eminent journalist accused of rape.  It is quite sad to see Congress party, which is vocal on "secularism" is engaging in raping the constitution of India.