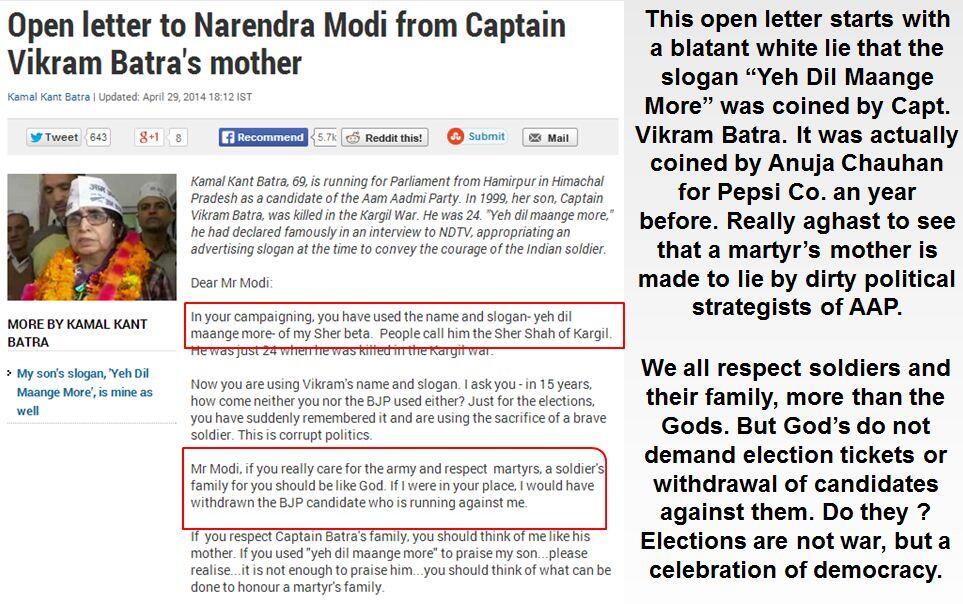 Dear mother,
I addressed you as "mother" for two reasons- one because you are of my mother's age, and secondly because you are mother of the brave heart who sacrificed his life for each among us. I read your open letter to Narendra Modi. And I am not here to defend him, as he is the best person to defend himself.
On the onset, let me put it straightly to you that this open letter blog is ill drafted. I am sure the party strategists drafted it for you, because I do not believe that you will start a letter with a blatant lie as  the opening sentence.  You wrote "In your campaigning, you have used the name and slogan- yeh dil maange more- of my Sher beta.  People call him the Sher Shah of Kargil.". With all respects to your son and our hero Vikram Batra, I humbly inform you that the slogan which you claims to be that of Vikram Batra is not actually his. It was coined by Anuja Chauhan for Pepsi Co. in the year 1998.
If your open letter started with a lie, then what follows are pure political statements. "Mr Modi, if you really care for the army and respect martyrs, a soldier's family for you should be like God. If I were in your place, I would have withdrawn the BJP candidate who is running against me". You are absolutely right when you say that soldiers family for us(not just Modi) should be like God. But have you seen any God fighting elections? Do Gods join any political party ? No. It seems that you have seen your political rivals just like a soldier sees another soldier across the border as his enemy. The elections in India is not a war between rivals, it is a celebration of democracy. If you deserve to win, people will elect you despite BJP fielding its candidate. See the BJP candidate who is fighting election as one among you and not as one against you.
The full reading of your open letter can be summed up like this "Dont use my son's name and slogan, I have the right to use it. If you want to use it, withdraw your candidate against me". It seems that you are using your Son's name for political bargain. As a citizen of this country, I request you not to do this and not to allow anyone to use you and your Son's name like they did this time.
 I apologise if I have hurt you in this reply letter. I need your blessings too. Hope you will correct yourself and never be mislead by your party members.
Thank You
Nationalizer